AXA UK may be widely known for being a leading force within the Insurance industry, but did you know just how vital technology is to the organisation, to its culture and to improving the lives of millions of people worldwide? Their UK tech team has been at the forefront of creating a substantial impact across sectors. If you're interested in what type of work they do, their tech stack, and more importantly, how you could join them, then read on as we get an inside look with Matt Babczynski.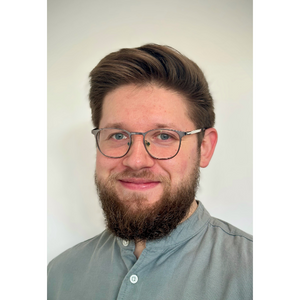 Now a Solutions Engineer at AXA UK Digital and Data, Matt actually has a background in Maths and Finance. Having always had a passion for technology, he ended up exploring the world of Raspberry Pi, and writing automations for his home lights and electronics. He joined AXA in 2018, where he began working in their ERate department, implementing testing changes to their rating models. Here, he was able to learn new skills, write new tooling and update existing publications. Now he works as a full-time Software Engineer, and he's here to share some of his top insights. Let's begin!
AXA UK has a lot of opportunities for employees; what has progression looked like for you?
It's different for everyone but I can say that I've had the privilege of working with some fantastic managers who have focused on my growth at the company. For example, once I figured out I wanted to progress into Software Engineering, I made my manager aware and we came up with an action plan. We had bi-weekly check-ins where I could talk to my manager about my progress and go through what was on my Professional Development Plan. If I require additional help, it's also possible for me to reach out to other colleagues and engineers for questions about our tech stack or products
Additionally, what helped me build my skills was being put on a team where creating test automations was required. I did this using Test Café, and I was also able to update some of our existing tools which are currently written in .NET. This has given me great first-hand experience and allowed me to learn on the job, which is arguably better as you get to put theory into practice.
How does the work you do make a difference to your life and the lives of your customers? What products have you contributed to?
On my last project, we worked on migrating our motor renewal journey from our old templating system to the standardised MVC format that we use elsewhere in our journey. The whole journey now follows the latest UI/UX principles. We wanted to make the set-up a little more modern and easier to use, and a way to encourage our customers to be able to easily make changes through a renewal and ensure it still matches their needs.
I enjoy the work I do as I'm faced with new problems to solve, which allows me to further develop and grow as an engineer. No day is the same and so far, I love the variety. The work at AXA has given me a challenge but also gives me a feeling of happiness and fulfilment. Often people say to do something you wouldn't mind doing for free and I think that's where I'm at now – I truly enjoy this work.
Give us some insight into the tech stack you use; have you had to learn anything new?
In general, we use a lot of Microsoft technology. We predominantly work with ASP.NET, MVC, some bootstrapping jQuery parts and Microsoft's SQL Server for our database. There's also been a lot of push recently to move to using front-end frameworks like React and using APIs in the cloud for the back-end instead so I'm eager to start working on some of this in the future.
At the moment there is a real appetite to move applications to the cloud. I've actually just finished a week-long instructor-led training for a Azure developer certificate within this, which the company arranged and paid for. As I mentioned previously, AXA UK really supports your growth. I'm now very excited to see how I can start using those skills in our future projects.
Not every project can be smooth sailing from start to finish. What advice would you give to other engineers who may have tricky projects or timelines – how do you overcome these?
I think the most important thing is to speak up. If you run into an unexpected problem with your setup or the stories you're working on are taking a lot longer than expected then make sure to let your team know. Firstly, you're managing expectations. And secondly, you can reach out for help that way.
It's great to try and tackle any problems and find solutions together. Often someone within the team can share little nuggets of wisdom that will save you hours of searching. Having worked as an engineer for a little less than a year, I've experienced a lot of this firsthand. So don't be afraid to ask for help!
What are your top tips for joining the tech team at AXA UK Data and Digital?
There are plenty of open roles at the moment, but here are some of my top tips:

If you don't quite have all of the relevant skills, don't be disheartened to apply, as you can learn some of those skills on the job.
You need to be eager to learn a platform this big which has a number of services interacting with each other. As it may take some time to get a better understanding of how different components interact, you'll need to be inquisitive and eager to learn and not be afraid to ask questions.
Communication skills will help you go a long way, being able to explain hard concepts to non-technical audiences will become part of your daily job and that will help you create better relationships with your stakeholders, which is arguably the most important out of all three.
And that's it!
If you're ready to transform your career and become an engineer at AXA UK Digital and Data, then create a profile on the hackajob platform, where they're currently hiring for a variety of roles or log in to your profile here. You can also keep up to date with AXA UK on LinkedIn and AXA Jobs.
Like what you've read or want more like this? Let us know! Email us or DM us: we'd love to hear from you. And remember you can keep up with us on Twitter, LinkedIn, and Facebook