Imagine you've found somewhere you want to stay long-term — the projects are varied, the tech stack is exciting, and the people are interesting. But what next? Whether you're a Software Developer, Test Engineer, Data Scientist or more, there comes a time when you start thinking about how to move up in your career.
For Alice, a Development Manager at Gearset, supporting her team is just as much about the personal development and career ambitions of her colleagues, as it is with meeting business objectives. At Gearset – a growing Salesforce DevOps platform – there are certainly plenty of opportunities to not only impact customers globally, but also progress in a way that suits you. As they continue building a deep understanding of their users, and solving their problems, they're hiring at pace for a range of technologists, just like Alice.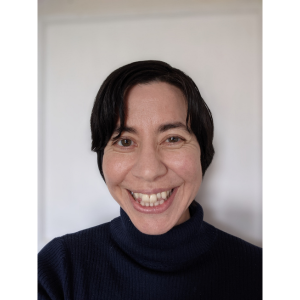 Alice graduated with a degree in AI and then moved into being a Video Games Developer for mobiles and consoles. Craving even more adventure, she taught English in Japan for a couple of years before re-entering the world of tech where she managed a team. This experience led Alice to discover her love of helping others to grow and develop their skills. This passion is vital to the role of Development Manager at Gearset, where she's been for two years. Let's find out her top tips for progressing, and what her role entails below!
What does a Development Manager do, and how do you impact people both internally and externally?
Great question! At Gearset, we have 3 Development Managers, and each of us has a slightly different focus. Andy looks after the infrastructure side, and he makes sure that our platform is as reliable and secure as possible. Eamonn leads our Belfast office, and he's really passionate about our code quality and technical training. And I play more of a role in scaling our team, whilst ensuring that our processes and culture stay true to our values. We're growing really fast, so processes are continuously being improved.
My days are varied, but always focused on supporting my team. I can be doing anything from catching up with one of the team leads to talk through the status of a project to meeting with the recruitment team to talk about the state of the hiring pipeline, and whether there's anything we can do to improve it. It could also be presenting part of the company update to tell the rest of the company what we learned last week. The Development Managers work closely together to help make our engineering team as awesome as it can be.
What achievements are you most proud of from your time at Gearset?
In my time at Gearset, we've celebrated a range of achievements. Some have been internally appreciated, such as our improvement of our planning processes. I also rolled out progression levels to help the developers in our company with learning and development to enable good growth in their roles.
It's really important for me to listen to developers feedback on their daily processes, and appreciate when there are barriers that prevent them from being productive or are frustrating. For example, we've always released twice a day, but we used to have only a few developers who managed our releases. This put unnecessary pressure on some team members and prevented us from being as efficient as we could be with our releases. So, we managed to build a bot that would tag a team in a round-robin fashion when a release was due, so that the load was more evenly distributed. This is a huge achievement for the ease of our internal process, and hopefully allows our end users to experience release value more quickly, too.
On a personal level, a huge achievement has been setting up a group for women and non-binary folks in Product and Engineering. We meet regularly and discuss topics in tech, diversity, inclusion, and equality. I think it's really important to create this space. Sometimes you might be the only woman on your team or not always feel that your voice is heard in such a male-dominated industry, so it was a pivotal moment for me to start this with my colleagues.
What career routes does Gearset have for its engineers?
I'll begin by briefly talking about the management route, as it's the path I've followed. Our Team Leads are still super hands-on — they're still writing code on a daily basis, which I realise is quite different to a lot of other organisations. We do expect our leads to be the technical authority on how we write code at Gearset, but they may spend more time on pairing and mentoring, technical scoping of bigger features, and reviewing PRs, than being on the critical path for a major feature. Some of our team leads love gnarly technical challenges, and some of them have more of an interest in product management and the direction of our platform — it's really up to you to make it your own.
"It's important to remember that management definitely isn't about telling people what to do or being blamed if things go wrong. In actuality, it's an opportunity to have a bigger impact on what we do, and how we do it."
For those who would prefer something non-managerial, we have an engineering framework to help developers identify what level they're currently at, and see the steps they need to take to reach the next level. This includes improving technical ability, like code quality and design, but also operational skills like databases in security, engaging with our users, and getting more involved with the external community.
What are your top tips for those looking to progress?
My advice for those who want to progress, but not necessarily move away from being an individual contributor, is to see if you can have a wider impact on the business. You might be a brilliant coder in your team but what else can you do to contribute to the wider engineering team? Can you help improve practices across the board? Can you help drive the rollout of new technology or raise awareness of new features? All of these are great ways to improve both your understanding of the business and how you operate as a developer.
And, if there's an area that you particularly enjoy, then you can work towards becoming the go-to person for it. You could run workshops internally and externally, for example. The world really is your oyster!
Aside from the tech, what is your favourite thing about Gearset and why should engineers come and join?
The team is absolutely incredible and there's a real culture of openness. It's not unusual to see folks from across the business discussing a new product idea or troubleshooting a customer issue and that's the entire company: Developers. Salespeople, Marketing, Customer Success, UX, etc. Even the founders and CEO will often get involved in those sorts of discussions — our conversations are open and visible to everyone.
As a new developer, you can have a really big impact here from day one. We have a flat structure and a big focus on delivering value to our users, so our focus is on enabling everyone in Gearset to contribute as soon as possible. Those are just some of the reasons why our engineers seem really happy, and definitely why I love my job here!
Are you interested in joining Gearset?!
If you're looking for a career that is both exciting and rewarding, and that makes a real difference for end users, then Gearset could be the place you've been looking for. If you're interested in a role at Gearset, then head on over to our platform where you could be matched with them. It takes just 5 minutes to sign up.
Like what you've read or want more like this? Let us know! Email us here or DM us: Twitter, LinkedIn, or Facebook. We'd love to hear from you.