If you've worked for any organisation for close to a decade, there's probably a good reason why. So what would make an engineer stay at Kainos for over 9 years? It could be something to do with Kainos' mission, projects, people, culture or all of the above. Don't worry, we won't make you play guessing games as we sat down with Patryk Jar, Tech Lead of the Innovation Team at Kainos, to get the inside scoop.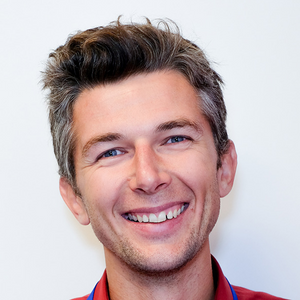 Patryk started working for Kainos 9 years ago and was attracted to its status as an international company with commercial projects for different global clients. As he lives in Gdańsk, Poland, Patryk was particularly pleased with the fact that he'd be able to use English on a daily basis with native and non-native speakers as well as the Kainos' reputation for high standards of code quality.
As Kainos' mission is to make people's lives better through technology, the work they do makes a real impact in the world which is why plenty of engineers love being part of the team. What's more, is that they're currently hiring for a variety of roles via hackajob, so if you're eager to see what life could be like working there, then let's get started with Patryk!
1. During your time at Kainos, no two projects are the same so you'll have plenty of opportunities to grow as an Engineer
9 years is a long time to be part of a company but since I joined Kainos I haven't worked on one project for more than 2 years. So I've changed my work without changing my job quite a few times already. I'm not just talking about a different client, but also location (different city or even country), office, team and tech stack. It really is versatile. Back in 2013, I'd have called myself a JavaScript developer even though many people didn't recognise JavaScript as a mature language yet! Funny how time flies. My first project with Kainos was for
the Driver and Vehicle Standards Agency (DVSA), (if you're in the UK you've probably used what we worked on, at least once a year) and I started as a Senior Developer working in PHP and ended up a year later in the Data Migration team. For context, it was heavy SQL and we had 2.5 billion records to migrate from the legacy data store.
Another project that is worth mentioning would be Digitising Divorce (95% decrease in the number of applications returned because of mistakes and 75% faster) for HM Courts and Tribunals Service. I was a Tech Lead in this project and we worked with completely different technologies such as Java, node JS, cloud, and Kubernetes.
Last year I spent a lot of time strengthening bonds with universities in Gdańsk: we have already organized some events in Gdansk (Meet @ Kainos: Healthcare, Kainos Open Night), we gave lectures at universities and in high schools, were invited to the jury for start-up contests, and now we're about to start Code Club in Gdańsk and have sponsored events such as an AI Hackathon.
2. As tech continues to evolve, you'll be able to define your path of progress
From the JavaScript I was using almost a decade ago, I think it's a completely new world (even JavaScript has classes now)! There's also been infrastructure as a code, new frameworks and CI/CD is more than just unit tests executed locally 😉.
I've noticed we have quite an unusual approach to technology – we don't have "Java/C#/Python Senior Developer", but just "Senior Software Engineer" which means you understand technology, you know how to work in a team and how to deliver high quality IT solutions. I believe we've proved it in so many different environments that this approach is very functional. In my opinion, it helps us to learn new things and makes our developers better engineers. It also helps me to avoid burning out – every new project can be a completely new challenge.
What's more is that in Kainos we have a Career Lattice, instead of a Career Ladder. The lattice allows you to move into a variety of new roles and not strictly define a single option for your promotion. I personally know a lot of people who've benefited from it.
3. You'll be supported and also have the opportunity to support others
In Kainos we have something called a People Manager role. This role isn't related to your projects, actually, your people manager is a more experienced employee who should help you to grow. I also love the fact we have so many opportunities outside of regular projects like tech outreach and educational initiatives, eg. Code Club for 9-13 year-olds, and CodeCamp for 14-18-year-olds. There are also different communities such as Climate Action (Kainos has been net zero since 2021 and we're going to be carbon neutral by 2025) or our employee network groups like Xpression. We also collaborate with Academia and the startup ecosystem (for example with the Kainos Startup Initiative).
In my opinion, Kainos is a progressive company with respect for all people. We're doing our best to create an environment where people can grow and our values of being Honest, Respectful, Creative, Cooperative, and Determined really matter.
4. The work you do at Kainos has a real impact on people
I have had an opportunity to work on quite a few large projects for the UK government. It's quite funny when I talk to my British friends and I can tell that I have built a digital service they've just used (MoT, Civil Money Claims or Digitising Divorce, to name a few).
Today I'm also responsible for collaboration with academia and start-ups. We've been involved in several projects already and I hope we will increase this number soon. Some of these projects are related to diagnosing cancer or treating other diseases. In the future, they have the potential to save real lives. If this doesn't matter, please tell me what does!
A great benefit we have in Kainos is 2 extra days off (fully paid) that you can use for volunteer work. Yes, Kainos pays you to do something good for your local community and it doesn't have to be related to IT. For example, in Gdańsk, many people volunteered to support Ukrainian refugees (over 3 million people left Ukraine after the Russian invasion). We also organised an additional CodeCamp – for Ukrainian teenagers in their native language. I was thrilled that this idea was so strongly supported by Kainos and I felt really proud we were able to do it. It's great to know you work in a company that does something like this and that everybody in the company comes together to support good causes.

And that's it!
If you are interested in working in an international environment, meeting people from different countries and working on projects in leading technologies – Kainos could be a good place for you. If you feel like you would like to do something more – giving back to your local community, going to your children's school and teaching them the basics of coding, promoting good practices, mentoring groups of students, consulting with small local start-ups to help them grow, sharing your knowledge with your colleagues and actually make the world just a slightly better place – Kainos is probably the perfect match for you. And when you join – please talk to me (Patryk) – we need great engineers like you to make it all possible!

If you're interested in a role with Kainos, then head on over to our platform where you could be matched with them. It takes just 5 minutes to sign up.
Like what you've read or want more like this? Let us know! Email us here or DM us: Twitter, LinkedIn, Facebook, we'd love to hear from you.